Encyclopedia of the Commemorative Coins of the United States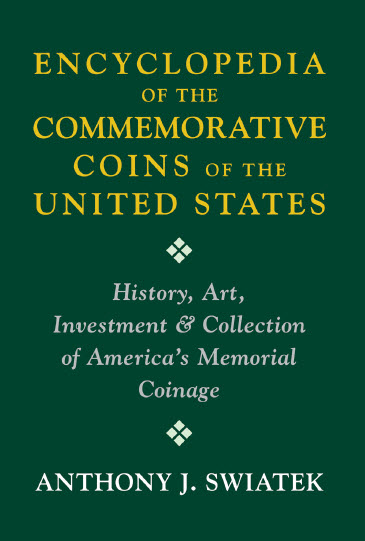 by Anthony J. Swiatek
This is the ultimate reference guide to United States memorial coinage. Described in detail are the stories behind America's commemorative coins: the historical events and the people memorialized the artists and sculptors, the lawmakers & public officials. Commemorative coinage is a popular investment and collectible, and the author provides expert research and advice about the rarity, value and investment potential for every commemorative coin officially issued by the US Mint.
Written by the leading commemorative coinage expert, the Encyclopedia provides indispensable information for a broad spectrum of readers from the reference librarian to the historian, student, investor and collector. The author also addresses counterfeit and doctored coins; mint errors; and includes extensive information about related collectable materials such as cancelled coinage dies. With over 600 illustrations of coins as well as rare photographs of historical memorabilia, packaging, and other ephemera, the Encyclopedia is a unique reference on America's memorial coinage.
THE REVIEWS ARE IN…
"An essential, well-organized guide."

–Library Journal
"Swiatek's authoritative reference to commemorative coinage impresses with its meticulous coverage and well-researched details about protecting investments in coins."

–Booklist
Anthony Swiatek was awarded The 2012 Robert Friedberg Award, by the elite dealer organization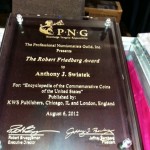 Professional Numismatists Guild, for his work on this book.
About the Author
Anthony J. Swiatek was the 50th President of the American Numismatic Association and is a leading authority on commemoratives and other U. S. coinage. He has consulted with the U.S. Mint. A full time Professional Numismatist since 1979, he is one of numismatics most influential and highly respected coin dealers.
Trade and bulk discounts are available. Order your copy today!
To order, contact:
Swiatek-Minerva Coins & Jewelry, Ltd.
Tel: 518-581-7000
Email: UScoinguru@aol.com
Or write to: P.O. Box 684, Saratoga Springs, NY 12866
Specifications:
6" x 9"
712 pages
hardcover
smythe sewn binding
Includes over 600 color photographs
Fully indexed
ISBN: 978-0-9817736-7-4
SRP: $150.00 US
Classifications: Numismatics, American history, coinage, art, sculpture, investment, collectibles