BOOK REVIEWS
ENCYCLOPEDIA OF THE COMMEMORATIVE
COINS OF THE UNITED STATES
"An essential, well-organized guide."
--Library Journal
"Swiatek's authoritative reference to commemorative coinage impresses with its meticulous coverage and well-researched details about protecting investments in coins."
--Booklist
Buy the book today! Discounts available! Learn more >
WOULD YOU BELIEVE?
What US Proof set in your collection, which you value at under $10.00, could actually be worth $6,000 or even $329,000?
Could it be possible that your circulated Morgan dollar believed to be valued between $13 and $14 could actually appraise for $800? No, we are not kidding!
Contact me to learn what your collection is worth!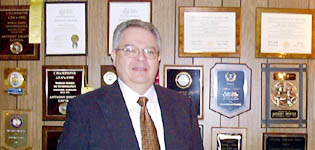 HONESTY, INTEGRITY AND RELIABILITY SINCE 1968.
Professional Numismatist Guild #511
ANA Life Member #1099
Past President, Society for US Commemorative Coins
Member of the Professional Currency Dealers Association (PCDA)
Before you buy another coin, talk with Mr. Swiatek! That Advertised BU or Brilliant Uncirculated offering could be a "Been Used" or doctored coin!
About Anthony J. Swiatek
Anthony J. Swiatek operates Swiatek-Minerva Coins and Jewelry, Ltd. in Saratoga Springs, New York, with his wife, Gloria. He is a member of more than 20 coin clubs and organizations around the country and served 10 years on the ANA Board of Governors, including terms as president and vice president.
He was the ANA's Farran Zerbe Memorial Award Winner for Distinguished Service in 2002.  In the numismatic community, he is well-known for his book on Commemoratives and his teachings at ANA seminars.