Author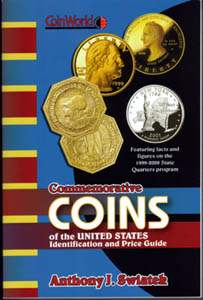 Author of Encyclopedia of the Commemorative Coins of the United States, heralded as "An essential, well-organized guide" by Library Journal.
Get your copy today >
Author of "Commemorative Coins of the United States" covering coinage produced from 1892-1993. Winner of the Numismatic Literary Guild's (NLG) award for Best Investment Book!
Co-author of the "Encyclopedia of United States Silver and Gold Commemorative Coins 1892-1954," winner of the NLG's Book of the Year Award.
Former publisher and editor of the popular "Swiatek Report," voted Best Numismatic Investment Newsletter of the Year for 1983-84, 1984-85, 1987-88 (first place tie), 1991-92 and 1994.
A full time Professional Numismatist since 1979, and now one of numismatics' most influential and highly respected coin dealers, Anthony Swiatek has written for Coin World, Numismatic News, Coins Magazine, COINage Magazine, Gary North's Investment Coin Review; for Scott's Standard US Coin Catalogue where he had his personal section dealing with altered and counterfeit coins; the Buy and Sell Price Guide to US Coins; the Red Book, the official Guide Book of US Coins; and contributed to the Official ANA Grading Standards for Coins, developing today's grading standards for the commemorative coinage of the United States of America; and is a contributor to Scott A. Travers "The Coin Collectors Survivors Manual," "How to Make Money In Coins Right Now" and "The One-Minute Coin Expert."
Awarded the Numismatic Literary Guild's Best Book United States Coins award for "The Walking Liberty Half Dollar" opus.