Anthony Swiatek is known as "Mr. Commem," highly respected by collectors, dealers and colleagues in the numismatic world, and is a recognized contemporary authority on silver and gold commemoratives and related collectibles.Mr. Swiatek was invited by Donna Pope, Director of the Mint, to strike one of the five 1982 Denver George Washington ceremonial commemorative half dollars, as well as the thirteenth striking of the San Francisco proof 1983 Olympic commemorative dollar. He was also honored by being asked to strike other ceremonial issues, as the uncirculated West Point 1984 Olympic Gold Eagle; the 1986 Statue of Liberty five dollar uncirculated gold; the 1 oz. gold 1986 American Eagle bullion specimen and the 1987 Philadelphia Constitution uncirculated dollar, etc. He was later an invited guest at the White House presentation of Olympic coins to the Olympic Museum by President Reagan. On May 4, 1999, he and his wife Gloria were invited to the White House by Mrs. Hillary R. Clinton to help launch the Sacagawea dollar program.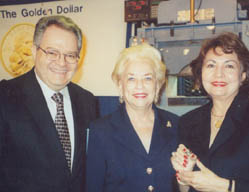 Anthony Swiatek, Treasurer Mary Ellen Withrow, Gloria Swiatek at striking ceremony for Sacagewa golden dollar.
On May 1, 1997, he and his wife Gloria struck the first of its kind, the American One Ounce Proof Platinum Coinage (7th, 10th and 11th pieces). On December 6, 1998 he struck the ceremonial 1999 Delaware State Quarter. During 1999, he and his wife Gloria struck the ceremonial New Jersey State Quarter.
First President of the Society for US Commemorative Coins 1983-1985, Vice President for the 1985-1986 terms and served as editor (1987-88) of the Society's newsletter, the famous Commemorative Trail. He was again elected Vice President in 1992, 1993 and 1994, was elected President in 2001 and served from 2009 – 2012.